To receive our Latest News
Like Us on Facebook
NEWS

Summer is here but we are still celebrating our awesome staff!

Meet our Volunteers

Melissa Wakefield- FCA Yearbook Teacher

Mrs. Melissa has been a Wharton county resident since the age of three. She and her wonderful husband, Jared, are both Wharton High School graduates. She received her associate's degree in Dental Hygiene from WCJC and has been a Dental Hygienist for 20 years. She and Jared have been married for 21 years this July and have 3 amazing kids, Jack (16), Cole (14), and Kate (12). Here's what Mrs. Melissa has to say. "I took Yearbook in high school and was the assistant editor my senior year. I love our FCA students, they are so much fun! I also love to take pictures! So when there was talk of creating a yearbook class at FCA I knew I wanted in on that! I thoroughly enjoyed the kiddos in class this year and look forward to next year!"

Jared and Melissa both give generously of their time, talents, and resources to our campus. We're sure that Mrs. Melissa has FCA pom poms in her purse. She always brings excitement to the FCA campus and encouragement to everyone she meets. Since the school's inception in 2007, Mrs. Melissa has served FCA as a room mom, school wide room mom coordinator, volunteered for almost every field trip, and always participates in campus events. She donates her time and energy at every fundraiser, working to make it successful! This year she has continued to pour into our school by volunteering to teach our yearbook students. Students in her class have learned photography skills, graphic page design, and so much more. We are so thankful for Melissa and Jared's commitment and support!

2 weeks ago

They are an all around great family!

2 weeks ago That made me tear up...thanks Kristen! And you know
I will ALWAYS be FCA's biggest cheerleader!😍😊

2 weeks ago

Sweet to her core and ALWAYS smiling! ❤️

2 weeks ago

My awesome daughter! This woman is full of happiness, love and the Lord. FCA is blessed to have her and her family. They all work hard to help make it the great school it is. ❤️

2 weeks ago

Melissa I still remember you were the first bright smiling face that greeted me and helped me with my little when we came!! ❤️❤️❤️

Today is JUNE FIRST!! Registration for the 2020-2021 school year is in full swing!!
** Returning families - today is the last day to register without paying a late fee. RETURNING STUDENT forms are available online and payments can be made via CashApp. If you have any questions, send us a Facebook message or give Mrs. Sandra a call.
** New families - we can't wait to meet you!! Fill out the NEW STUDENT application from our website and leave a message on the school phone. Someone will call you back about adding your student to the FCA family. Classes are FILLING UP FAST and you don't want to miss out!!

Meet our Volunteers:

Lois Dorris- Homemaking Teacher

Mrs. Lois was born and raised in Magnet in Wharton County. She graduated from Wharton High School in 1964 and earned an Associates degree from Wharton County Junior College in 1966. She went on to earn a Bachelor's of Education from Southwest Texas State in 1967. Lois married Charles Terry Dorris in 1966. They were married for 51 years before his passing in 2017. They have 2 wonderful children and 7 amazing grandchildren. Lois has over 35 years of classroom teaching experience working in the Midland, Luling, Devine, Goliad, and Wharton school districts before coming to FCA. In addition to catering for various events, she has cooked and delivered meals to the elderly through the "Meals on Wheels" program here in Wharton county. Here is what Mrs. Lois has to say: " From the time I could stand in a chair, I remember my Granny tying a cup towel apron on me and teaching me how to roll out cookie dough. I have been blessed with the gift of cooking and a love for children. I love teaching them the basics and showing them fun and creative ways to learn and share the joy of cooking. These past 2 years I have been blessed to work with the beautiful children at FCA. To see their faces light up when they ate what their hands had prepared gave me such joy. Thank you for sharing your students and especially thank you to Nancy Ondrias for recruiting and supporting me." Two events that students love most from Mrs. Lois's class are the Christmas Cookie Swap and The One Pot Wonder contest in the spring. FCA is so thankful for the wonderful talent and opportunities Mrs. Lois brings to our campus!

Last week we said goodbye to the 2019-2020 school year with a Hula Drive-Thru and a Luau Field Day! While the last few months of the school year were not what we envisioned them to be in August, our teachers, students, and parents worked incredibly hard to finish the year strong. We are so proud of all that they accomplished during this time and are thrilled to announce that through our distance learning program, 592 Warrior Work packets, 120 virtual meetings, continued teacher instruction, and student determination, FCA has met the curriculum requirements for the 2019-2020 school year! Way to go Warriors!!

We are excited about all that God has for our campus in the upcoming 2020-2021 school year! Registration is OPEN! We can't wait to see you all in August!

Meet our Volunteers:

Jeannine Frankum- Homemaking Teacher

Mrs. Frankum was born and raised in Richmond, Tx. She married Gene Frankum in 1956. They were married for 54 years before his passing in 2011. They have three wonderful children. "All because two people fell in love" their family is currently 41 strong. She is a member of First Baptist Church of Wharton where she has spent many years teaching children's Sunday School and Vacation Bible School. Her favorite Bible verse is 1 Corinthians 13:13. Here is what Mrs. Frankum has to say about volunteering on the FCA campus:

"My journey as a volunteer began with me wanting to teach the kids how to sew a button on. That was two years ago. Since that time many projects have been completed with serious dedication and much joy. This year sewing machines were added to the classroom. The kids have greatly enlarged their skills and their projects have been completed with lots of toil but also with much self-pride. They bless me greatly when I see their enthusiasm and their readiness to reach out to assist and encourage each other. FCA is an awesome campus to be a part of. It not only strives to teach scholastically and academically, it is built on the foundation to bring students to Jesus through Bible study, scripture and prayer. It doesn't get any better than that!" In addition to our homemaking classes, Mrs. Frankum contributed to our growing S.T.E.A.M./Robotics program, making it possible for our students to take their knowledge of basic coding and apply it to tangible technology. Mrs. Frankum is dearly loved by her FCA students! We are so thankful for her willingness to share her time and talents with us!

1 month ago

What a blessing our Granny is to not only our family but our school family, too! We love her so!!❤️

Meet Our Teachers-

Sandra Allen: Administrator, Board Member, and Elective Teacher

Mrs. Sandra Allen was born and raised in Simonton, Tx. She earned her Associate of Arts degree from Wharton County Jr. College. She and husband, Chad, moved to Boling in 2006. She has been a part of the FCA campus in a multitude of ways since the school's formation 13 years ago. She's a founding board member, Licensing Director, and part of the FCA Administrative Leadership Team as Dean of Admissions. Additionally, this year she has moved into the classroom as the FCA Art and Public Speaking teacher. Sandra and Chad have been together for 17 years. They have two awesome sons, Caleb (13 yrs old) and Levi (10 yrs old). They are currently members of Simonton Community Church in Simonton, Tx. Mrs. Sandra enjoys reading, Mrs. Sandy's brownies, and watching Marvel movies with her guys. Here's what Mrs. Sandra has to say: " I have always had a divine calling for children and teaching. My first teaching job was as a teacher's aide at a private school when I was 16 but I've been caring for children since I was 10yrs old. My family and I are a part of the FCA family because we believe in the mission and the vision of the school. I have seen the heart of FCA. I believe that academics have to start with a foundational knowledge of God's word, Jesus, and His love. FCA gives me a chance to share my faith and my knowledge with my students. Under the guidance of the FCA staff, my boys have learned to love Jesus, excel academically, and serve their community. We aren't perfect but I'm proud to be a part of a group of teachers that invests in students the way we do. When I say I have 87 babies...from infants- 12th grade...I really mean it." Mrs. Sandra blesses our campus in many ways. She invests in the families around her and strives to bring a patriotic and service minded focus to the students she teaches. She is passionate about Christian education and has a heart for all of the students on the FCA campus.

1 month ago

We love our Mrs. Sandra! We are blessed to have her big personality and her big love for our kiddos!!❤️

1 month ago

She would always have a timely word during our chapel and staff devotionals. An ANOINTED women warrior 🦹‍♀️ Glad our path has crossed. Keep up the good work, God see you... thank you for ALL you put in.

1 month ago

I enjoy working with Mrs. Sandra. She can always make me laugh with her quick wit. She's a woman of faith and believes in the vision of FCA.

2020-2021 Registration forms are available online. Don't miss this opportunity to join the FCA family!!

http://www.fcawharton.org

Meet our Teachers:

Tonya Ramsey- PreKindergarten Teacher

Mrs. Tonya was born in Oakland, CA. Her father was a Marine, which allowed her to live in some amazing places as a child. She moved to Texas 26 years ago and married the love of her life. She has two wonderful daughters, Lacey and Chelsea, and one very strong and courageous grandson, Joshua. She has worked in the field of Early Education on and off for over 20 years. She enjoys gardening, spending time with her family, and traveling to visit extended family in New Mexico. Here is what Mrs. Tonya has to say: " Family means everything to me. It's what motivates me to be my best, so I can leave a Godly legacy. Being a grandma is one of my greatest joys! I love the amazing group of kids in my class this year and last. I love this age group. I love how they are all different and diverse in the way God made them. It's amazing how God made their little minds so intricate and how much they soak up at this age. I love that God chose me to be a part of their development, and that I have the privilege to plant seeds in their hearts that will grow into a love for learning, knowledge, and wisdom through God's word and education. I just want to do my part in impacting this world for God's kingdom purposes and His glory. I love God with all of my heart and soul. He is my everything." Mrs. Tonya is also very involved in world missions. She is a part of several ministry opportunities through her church, including Hope Rising. Mrs. Tonya is known on our campus as a mighty prayer warrior with a gentle spirit. She encourages all those around her and seeks to honor God in all she says and does. She truly represents the vision of FCA and we are so thankful that God has brought her to our campus!

2 months ago

2

The Muegge's love Mrs. Tonya! She has been such a blessing to our family! She has an amazing heart for what she does, truly a Godly woman! FCA is lucky to have her!!

2 months ago

1

Mrs. Tonya has a beautiful heart. She exudes Christ's love for everyone around her. We are very blessed to have her and I, to call her my friend. 💕

2 months ago

We love Mrs. Tonya! I keep trying to talk her into moving with Case, until he graduates! We will really miss her next year! She's done an amazing job at helping Case, being patient & kind with him every step of the way!

2 months ago

We Love Love Love our Mrs. Tonya! She has been such a blessing to us. She truly is amazing!!!

2 months ago

We LOVE Mrs. Tonya! She is passionate about early education, child literacy, and making learning so much fun for the kids. Such a blessing to have her as Avery's teacher ❤️

Meet the Teacher- School Nurse Edition

Nancy Ondrias- School Nurse and Community Liaison

Nurse Nancy has blessed the FCA campus in many ways. In addition to being school nurse, she and Kashara Bell head up our Family and Consumer Science program. These classes help FCA students learn to cook healthy meals and learn valuable life skills. She organizes a variety of service projects to allow FCA students to give back to their community. Nancy has been a nurse for 45 years. 20 of those years were with WISD. She also has experience in mental health and clinical research. She and her husband Darrell have been married 45 years and have 2 sons, Wes and Brain. Wes is married and lives in Buda, Tx with one daughter. Brian is married with 2 sons and lives in Malaysia. Nancy's hobbies include traveling and cooking. Here is what Nurse Nancy has to say: "I love working at FCA because I love being with children and being an advocate for them." We are thankful for the talents that God has given to Nancy and for her willingness to share them with the FCA campus.

2020-2021 Registration is HERE!!! All of the documents you need to register new and returning students are available on our website. If you have any questions, please email us at

fcawharton@gmail.com

.

We can't wait for you and your family to become part of the FCA family!! Enroll today!!

https://www.fcawharton.org/documents/

Faith Christian Academy in Wharton Texas Documents and Forms.

Meet our Teachers: Staff Edition

Diana Gajewsky- Administrative Assistant

Mrs. Diana was born and raised in Wharton. She has been the smiling face in the FCA front office for the last 5 years and spent 26 years at Wharton ISD prior to that. She and her husband, David are the proud parents of 3 girls. Alicia is a Jr High Teacher at Victoria ISD. Presley recently graduated from Texas State University with a degree in Anthropology. Amber was a product of Texas A&M and a veterinarian. They are also the proud grandparents to 3 amazing grandchildren. Here's what Mrs. Diana has to say " I enjoy working with the public and love children. At the time I was preparing to retire from public school, this position was opening at FCA. I took it as a sign from God. I love the vision of our school and that it's a family atmosphere. The teachers are dedicated and loving, the students are eager to learn, and the parents are friendly and helpful. It makes my day when one of our students walks in with a smile on his/her face and says 'good morning'. Many times, I get a hug from one or two of our little ones! You just cannot have a bad day after that!!" Mrs. Diana brings a kindness to the FCA office that is appreciated across campus. Between beautiful murals on the front windows, the colorful office environment, and everyone's pal Sunny the lizard, Mrs. Diana's creativity makes everyone smile. We are thankful for her God given talents that she chooses to share on the FCA campus.

2 months ago

You make great changes in a lot of those children's lives !

2 months ago

We love our Mrs. Diana and are so blessed to have her smiling face greet the kiddos every morning!🥰

2 months ago

So blessed to work with you 😍 I miss you as much as the little ones do!!

2 months ago

Ms Diana is the best. I love her attitude, always willing to serve. I sooo appreciate her, the times she fills in as a sub in the infant class. The little bitties love her! Thank you Diana, you are a BIG blessing.

Meet our Teachers: Amanda Horta- Pre-K Teacher's Aide and Extended Care Teacher

Mrs. Amanda is a 2003 graduate of Boling Highschool. She and her husband Sammy have two awesome kids, Sam (16) and Audrina (12). She enjoys spending time with her family and shopping. Mrs. Amanda blesses our campus with her sweet spirit and consistency. She's always willing to step in and help out. She and Mrs. Tonya work very hard to make sure that every Pre-K student reaches their full potential and knows that God loves them. Here's what she has to say: "I enjoy working at FCA and being around all the kids. Every kid is unique in their own way. Just seeing them learning and growing makes me happy. It's nice to have a great staff to work with also. Everyone is friendly and understanding." We are so thankful for all that Mrs. Amanda brings to our campus!

2 months ago

Gage loves her and always says she is super sweet! On the teacher/co-worker side, she is fabulous. Always willing to help when she can. We are lucky to have her.

2 months ago

Ansley just loves you and Mrs Tanya so much y'all taught her so much this year ...y'all were a blessing to her

Meet our Teachers:

Kashara Bell, Family & Consumer Science/ Practical Econ Teacher

FCA is incredibly lucky to have Mrs. Kashara on campus. She, and School Nurse Nancy Ondrias, facilitate amazing opportunities for FCA students to try new foods, learn important life skills, and compete in fun contests through the FCS program. Kashara is a Family and Consumer Science Agent for Prairie View A&M University Cooperative Extension Program in Wharton County. She is currently studying for her master's degree in criminal justice.

As an FCS agent, she takes pride in linking education with life experiences to help people improve their lives. She is eager to help the community explore effective responses to issues affecting families, such as poverty, childhood obesity, prevention of child abuse, health care, nutrition and financial security. Here is what Mrs. Kashara has to say: "I'm passionate about making a difference. When I'm involved with anything personal or work related I want to do my very best to attain success. My goals in life simply revolve around work, family, and personal passions. As a Family and Consumer Science agent I strive to transform the lives of individuals and families in Wharton County by focusing on educating them on better living skills." In her free time she loves to travel with her husband and baby boy. Her hobbies include swimming, shopping, traveling, and helping with her father's church. Mrs. Kashara's faith is evident in her interactions with everyone she meets. We are thankful for the talents that she shares with our FCA students and with our community.

https://www.facebook...PVAMUCEPWHARTON/

There are no birthdays this week but we've got a few announcements. The wind is pretty loud but it was a BEAUTIFUL day to be outside!! We hope you had a blessed Easter weekend and we miss our FCA family so much!! See you at flagpole next week.

School is still in session! FCA students and teachers are working hard to finish the year strong! Congrats to Owen Sharp, Sadie Favors, Eli Popp, and Channing Parker! They are the winners of our Colossians 3:23: Warriors Work picture contest! Students submitted pictures of how they are working hard from home on various projects. We are so proud of all of you! Look for a "Cool" surprise in your mailboxes this week!

On Good Friday we remember what Christ did for us on the cross. But the story doesn't end there...Sunday is Coming!! Hallelujah!

It took us 4 tries but we just wanted to say GOOD MORNING!!! The entire FCA staff is missing being on campus with our students and our students are missing each other. We have enjoyed seeing students during packet pick up on Monday and everyone is ROCKING online learning. Join us here every Tuesday morning for flagpole. We hope you are having a good week!!

3 months ago

We need to get a new Texas flag to you. SOON

3 months ago

Patricia Lane Mangum Knapp - Thank you sooo much for offering. One of our families put a brand new one in our box this morning. I will definitely have it up before next week. We would happily take another one if you'd still like to contribute. The wind really eats up our flags quick out there. We go through about 4 or 5 a year. I didn't really notice them until we had already started and then it was too late. So embarrassing!!

3 months ago

What size do you need. I am always ready to donate to the school. That is what WoodmenLife does and we have in the past. Will get them to you when I head that way once again

3 months ago

Please get a new Texas flag.

3 months ago

Shari Wilkinson one of our sweet families dropped off a new one that very afternoon. Campus is closed right now and sadly maintenance has fallen down our to do list. I noticed the condition of the flag about half way through but it was too late. So embarrassing!! The flags will be changed before our next video. Thanks so much for watching! Stay safe out there!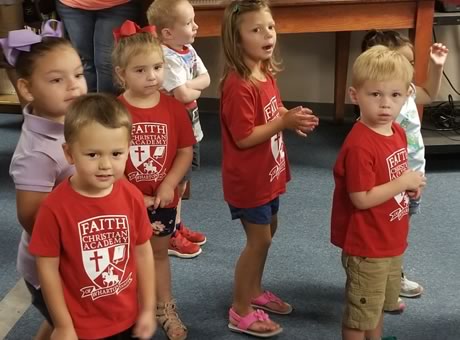 Welcome to Faith Christian Academy
We offer day care and education from 6 weeks old all the way through 12th Grade.
The educational philosophy of Faith Christian Academy is based on a God-centered view of truth and man that serves in cultivating and strengthening the spiritual formation and intellectual development of each child.
We are grateful to the Lord for allowing us the privilege of partnering in ministry with parents to raise up Jesus Christ as the standard of excellence in education.
This commitment is central to our mission in the development of the whole child academically, spiritually, socially and emotionally.

Copyright© 2018

Victoria Web Design